30 Lovable Heart Nails
The heart is no doubt the most famous organ or shape in the world. It symbolizes something that is more powerful than money and influence, love. Also, for all living things, heart is the very symbol of life. It is no wonder if all forms of art in all eras used heart in many opportunities. The manipulation of the heart shape can change moods from elated, in love, static to frustration, sadness, and betrayal.
Following such elaborate introduction, we give you a few of the best nail art designs inspired by the most famous shape of love. Normally, we see hearts colored in red, but in recent times, hearts are rendered in different shades which also symbolizes different emotions. Some of the presented nail art samples are cute while some are sophisticated. The design possibilities for a heart nail art are almost endless since the heart symbol is also used to be exploited by art itself.
See Also: 40 Modish Green Nails
Enjoy the heart nail art designs we have in line for you today. It may be a common subject for an art design but no one would deny that it is still bankable and irresistible to have one.
30. Blue And Black Heart Nail Design
Image Credit: She Knows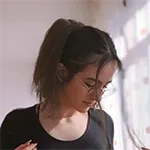 About Shirlyn Ramos
Shirlyn Ramos has worked as a manager for a famous nail salon chain for over 10 years. She's seen it all, and now she likes to share her experience with others in the hopes of helping them create beautiful nails. When she's not busy with work, Shirlyn enjoys spending time with her family and friends. She loves going on walks and exploring new places.
Thoughts on "30 Lovable Heart Nails"