30 Amazing Spider Web Nails
by Rose Walker
There are things made in this world that humans are still dreaming to recreate perfectly using cutting edge technology. To name a few, there is the compound eye of a fly, the ability of lizards to walk on walls, the strength of a hummingbird wings, and the perfection of bee hives and spider webs. Humans may have tried to create something similar to these wonders but we are still far from the true capabilities of such.
To highlight one of this natural wonders, today's nail art post will all be about spider web. Spider web may have became so famous because we see it usually in our attics and in movies. If you happen to see a spider spinning its web, you'll be amazed on how easy it is for them to do such mathematically-precise trapping mechanism. The design of the web is typically simple visually that is why it is also very easy to recreate it unto the nails. Spider web nail designs are most of the time white, like the silk material being used to create the real web. Background may either be red based on Spiderman, or black in relation to witches' house, and anything that comes to the artists' minds.
See Also: 35 Oval Nail Designs
We have collected ample number of these amazing spider web nail designs for you today. Be caught on its awesomeness and try one for yourselves.
30. Spider Halloween Nail Design
Image Credit: Stylestime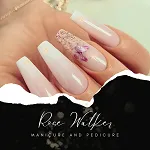 About Rose Walker
Rose Walker has worked as a nail artist for over 10 years. She's gained a lot of experience and developed her own unique style during that time. When she was working at a famous nail salon, she met Shirlyn. The two of them quickly became friends, and eventually decided to start their own website together. Naildesignideaz is the result of their collaboration - it's a website where they share their experience and offer tips on how to create beautiful nails.
Thoughts on "30 Amazing Spider Web Nails"