40 Stylish Tribal Nail Art Ideas
by Rose Walker
Most of the nail art designs that we've seen so far were about glam and fab. Well, that is obviously true since the objective of this business is to add fashion to all women.
However, to our surprise, we found out that there are also other designs that satisfy the radicals alike. One of these unique designs are the tribals. Tribal concepts are not new to the public and the basics of the design are very familiar to us. Most of the time it is done in black ink so in nail art, it is usually painted on top of white or clear polishes. However, one can go deviant and decide how the tribal nail art should be done.
Tribal inspired nail art may a little bit off from the rest of the available designs out there but hey, not everyone prefers the glam and fab. This preferred design is no doubt awesome and cool still even in nails.
See Also: 30 Exquisite Mandala Nail Art Ideas
Below are the 40 Stylish Tribal Nail Art Ideas for everyone!
40. Pastel Tribal Nail Design
Image Credit: Eye Catching Images Today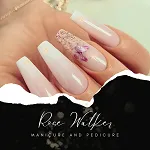 About Rose Walker
Rose Walker has worked as a nail artist for over 10 years. She's gained a lot of experience and developed her own unique style during that time. When she was working at a famous nail salon, she met Shirlyn. The two of them quickly became friends, and eventually decided to start their own website together. Naildesignideaz is the result of their collaboration - it's a website where they share their experience and offer tips on how to create beautiful nails.
Thoughts on "40 Stylish Tribal Nail Art Ideas"